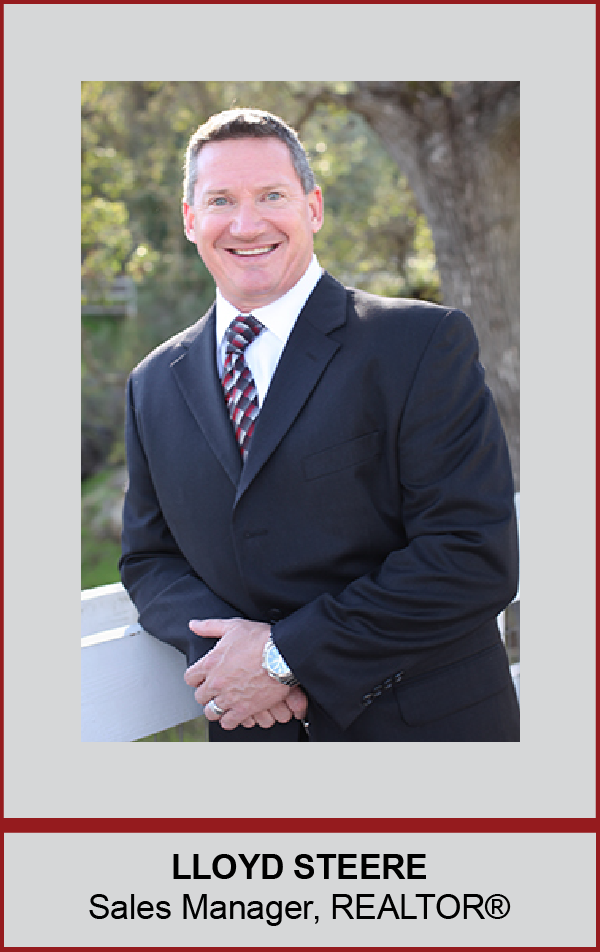 Lloyd Steere is a seasoned real estate professional with 25 years of knowledge and expertise. Born and raised in Northeast Indiana, he has lived and traveled worldwide, and has lived in California for more than 16 years.
Lloyd brings a wealth of knowledge and local area expertise to help you successfully navigate the homebuying and selling process to meet your financial goals. He believes that a home purchase is one the most important financial decisions that anyone will make so he listens to your needs and streamlines your action plan so that you can reach your financial and home ownership goals.
Home buyers and sellers both rave about the level of communication and professionalism that Lloyd and his team maintain throughout the process. He provides each client with a personal level of attention and is able to do so because, when working with Lloyd, you are working with an entire team. Together they are able to bring significantly more to the table with regards to customer service and available resources. His goal is to deliver a low-stress, end to end homeownership experience while building strong community relationships.
Lloyd served in the United States Marine Corps from 1985 to 1991. He holds a BSBA and an MBA. He provided global customer care, in the B2C environment, for over 25 years. And, as an active member of VAREP, Lloyd works towards increasing affordable, sustainable home ownership, providing financial-literacy education, and economic opportunity for active-duty military and veteran communities.
Lloyd lives in Pleasanton, with his wife, and enjoys golfing, riding motorcycles, working out, visiting wineries, and enjoying the local festivities that the Tri-Valley provides. He has two grown children who live and work in Northeast Indiana.


2300 First Street #316 Livermore, CA 94550 | Phone: 925.404.3394 | Email: Lloyd@LloydSteere.com | CA Lic 02009176

Natalie Swanson Real Estate Team
(925) 580-9829
DRE#: 01709115


2300 First Street Suite 316
Livermore CA 94550